Main Content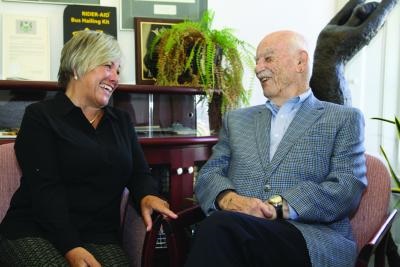 When Kingston's Brit Smith, 98, fought in the Second World War, he had no idea it would spark a lifelong connection with CNIB and lead to a $1.125-million gift from his company, Homestead Land Holdings Ltd.
In addition to knowing CNIB founder Col. Edwin A. Baker, Smith learned how challenging sight loss could be from his fellow soldiers. When he was seriously injured on the battlefields of Normandy, he got to know many comrades who'd lost their sight in action.
"I was in the hospital for six months after I was wounded in the war," says Smith. "I remember we would go down to the local pub with some of the pilots who had lost their sight to help give them some exposure on how to manage now that they couldn't see anymore."
Thanks to Smith's generosity, the revitalization of the recreation hall at CNIB's Lake Joseph Centre, an accessible and inclusive camp for people with sight loss in Muskoka, is almost complete. The funds also support the redevelopment of CNIB locations in Kingston and Ottawa. CNIB Kingston is creating an accessible new teaching and technology hub for people with sight loss, while Ottawa's new community hub will have its opening in fall 2018.
In addition, Smith's gift provided start-up funding for new and expanded programs across Eastern Ontario.