Main Content
Over the summer, Larissa Proctor, Program Lead, Advocacy and Accessible Community Engagement, hosted a series of guide dog handler presentations throughout communities in Ontario West. Attendees learned about what it's like to live and work with a guide dog, as well as what the application, matching and training process with CNIB Guide Dogs is like. We checked in with Larissa to learn more about what inspired her to develop the "Tales of a Guide Dog Handler" presentations.  
I'm slouched in a hard plastic chair, my guide dog asleep at my feet, when the woman across from me begins to cry. I can't see her tears, this stranger in a train station, but I feel them as sharply as if they were my own. She's telling me how challenging her life has been since losing most of her sight to diabetic retinopathy. She wants to know if my guide dog has made a difference in my life. I'm exhausted, thinking longingly of the audiobook that I've been dying to finish. I sit forward, take a deep breath, and tell her my story.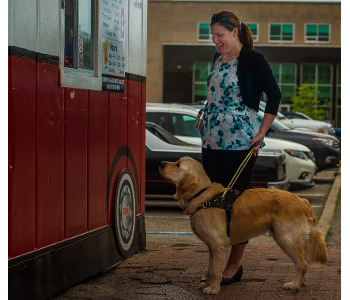 My decision to transition from a white cane to a guide dog was a long, often overwhelming process. As I've always done in times of stress, I sought comfort in the stories of others. I devoured books about guide dogs, but the thing that helped me the most was talking to people who'd been there before me. I discovered a vibrant community of guide dog handlers who generously shared their stories, answered my questions, and expected nothing in return. 
Piper and I were matched in April, and I'm grateful to now have the opportunity to share my experiences. I've spoken with individuals and groups in Brantford, Hamilton, Kitchener, London, St Catharines, and Windsor. With Piper by my side, I've educated community partners and advocated for the rights of guide dogs and their handlers. Has my guide dog made a difference in my life? Absolutely and I hope that by continuing to share our story, we can make a difference in someone else's life.
 
Read more articles from the September 2019 issue of Equalize: