Main Content
Since CNIB Lake Joe first opened its doors in 1961, the dream of having a safe, accessible place where people with sight loss and their families could enjoy the magic of camp has been evolving and expanding. The incredible power of recreation and rehabilitation in a community camp setting has been life-changing for thousands of Canadians impacted by sight loss. Our historical timeline includes significant dates and milestones in CNIB Lake Joe's history. Sharing our history is a work in progress, and we look forward to updating this timeline with additional achievements and accomplishments from the past, present and future.
Early 1900's
The CNIB Lake Joe property was originally on an old Canadian National Railway/Steamship line. Today, the boat dock is located where historic steamships departed to sail on Lakes Joseph, Rosseau, and Muskoka.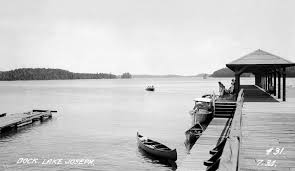 Late 1940's and the 1950's
Before finding a permanent home on Lake Joseph, CNIB rented facilities like The Lions Club Camp in Ancaster, Ontario. The first Ontario summer camp for the blind was held in 1948 under the joint auspices of the Canadian Council of the Blind and CNIB at the Lions Club campsite at Ancaster. It proved so popular that CNIB arranged for two camp sessions in the coming summer. For 12 years, the camp hosted two ten-day summer holiday sessions, attracting over 2,000 campers. By 1959, demand exceeded the space available, and organizers looked for an alternate location.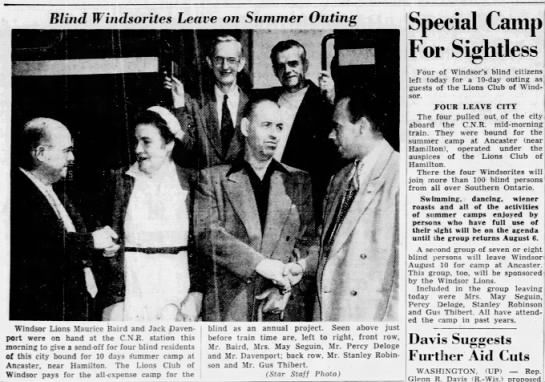 1960
Recognizing the life-changing role camp plays in the lives of people with sight loss, CNIB, in collaboration with the Lions Family of Ontario and the Canadian Council of the Blind, purchased a small piece of paradise from the MacDonald family on Lake Joseph in Muskoka.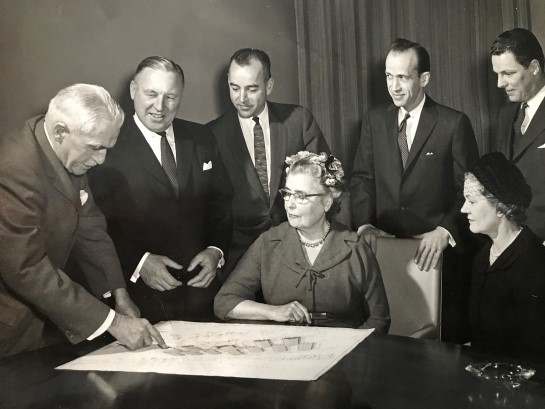 1961
CNIB Lake Joe, originally known as the Canadian National Institute for the Blind Lake Joseph Adjustment Training and Holiday Centre, hosted its official opening celebration July 21, 1961, and formally opened its doors to campers on August 17, 1961.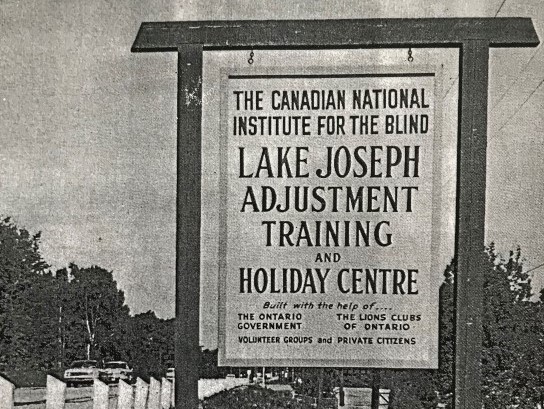 1971
The CNIB Lake Joseph Adjustment Training and Holiday Centre celebrated its 10th anniversary.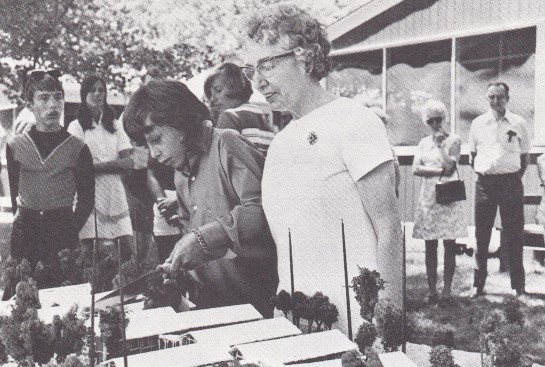 1986
On July 20, 1986, CNIB Lake Joseph celebrated its 25th anniversary with a barbeque and a ribbon-cutting ceremony. Lincoln Alexander, Lieutenant Governor of Ontario, and executives of the Lions organization were in attendance.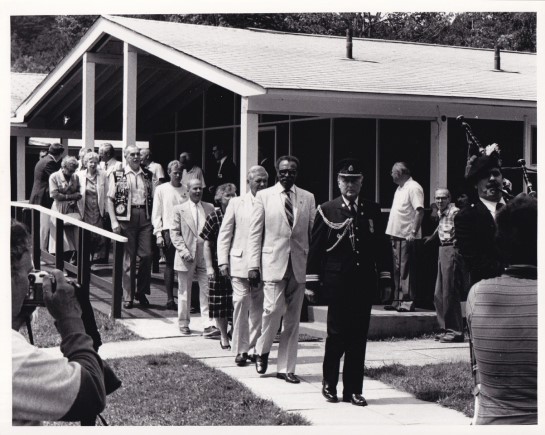 1991
Since 1991, CNIB Lake Joe has been the home of the Lake Joe Yacht Club (LJYC), a community based, volunteer run, non-profit sailing club, founded in 1967. With over 100 family memberships, the LJYC provides a great opportunity for local cottagers to get to know their neighbors while developing sailing skills.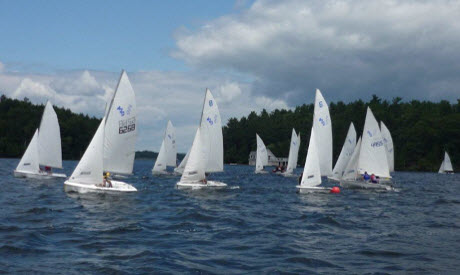 2000
The SCORE program (Summer Computer Opportunities in Recreation and Education) began in 1985 through the philanthropic efforts of Wayne and Walter Gretzky to improve access to technology for teens who are blind, partially sighted or Deafblind. Over the years, SCORE has evolved into the Skills, Confidence, & Opportunities through Recreation and Education program, and in 2000, included CNIB Lake Joe as part of the curriculum. The program is now part of CNIB Learning Academy, a transformational program designed to prepare youth for success in post-secondary studies and beyond. 

Recorded in 2019, this short documentary asks SCORE participants: what makes SCORE such a unique experience?
2002
CNIB Lake Joe facilities were in desperate need of repair and closed for one season for massive renovations. The Lake Joseph community at large rallied together to help fundraise and rebuild the facility. The Restoring the Spirit Campaign raised nearly $8 million to transform CNIB Lake Joe into a new, fully accessible and safe facility where people living with sight loss can participate in fun camp activities, and access life-changing experiences.
New buildings included the Dining Hall and Lounge (2003), Wellness Centre (2004), six guest cabins (2007) and the Welcome Centre (2008). New staff quarters were added in 2011 through additional corporate support.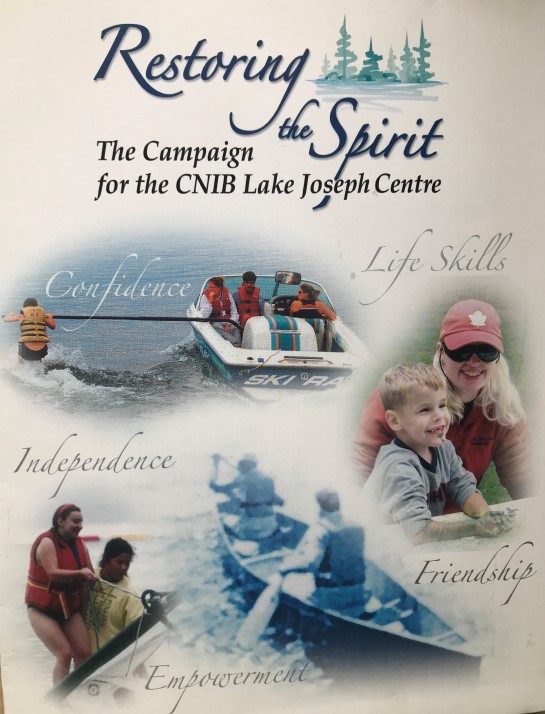 2003-2009
Joe Finley, a Toronto resident and Lake Joseph cottager, was a strong supporter of CNIB Lake Joseph Centre and a member of the Restoring the Spirit Campaign Cabinet. In 2009, Joe created the Blind Guys Tri Team, engaging blind and visually impaired athletes in sporting events across Ontario, including an annual triathlon at the CNIB Lake Joseph Centre.
Joe passed away in 2010. In 2013, the road at the entrance to CNIB Lake Joe was renamed Joe Finley Way in recognition of Joe's commitment to live life to the fullest and give back one hundredfold – an inspiration to all to pursue life the 'Joe Finley Way!'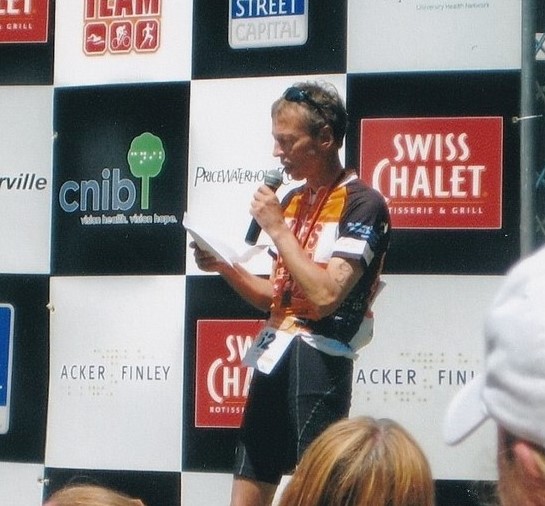 2009-

2011
With the success of popular television shows like American and Canadian Idol, CNIB launched its own music competition series; The iFactor. Featuring well-known celebrity judges and hosts, iFactor contestants showcased their musical talents.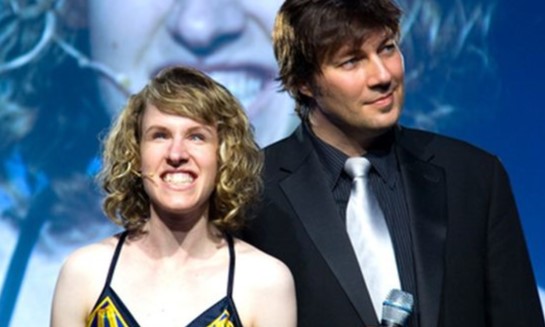 2011
CNIB Lake Joe celebrated its 50th Anniversary and unveiled its new facilities. Walter Gretzky was a special guest!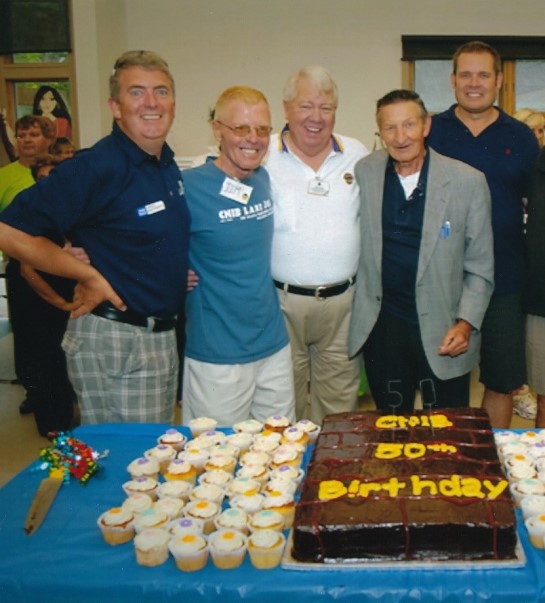 CNIB unveiled the "Walkway to Independence" and surprised some Lions with a special "Salt of the Earth" brick, honouring Lions who have made significant and meaningful contributions with their time and efforts to CNIB Lake Joe over many years.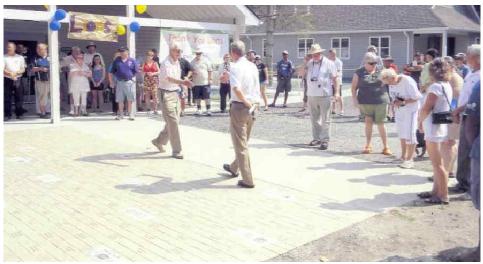 2012
A group of employees from Dumas Contracting Ltd. sang and danced their way into the judges' hearts on the second season of Global TV's Canada Sings. Jann Arden and other celebrity judges awarded them the $25,000 grand prize for CNIB Lake Joe. Dumas executives also gifted an additional $10,000 to the cause.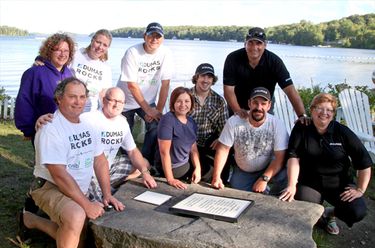 First introduced at CNIB Lake Joe in 2012, Camp Abilities is a goal-based athletic program modeled on the Camp Abilities program founded in New York, and now offered worldwide. The program focuses on athletic development, with participants receiving one-on-one coaching from instructors who help guide athletes to achieve their performance goals through specialized sports programs, like sailing or triathlon (swim, bike, run).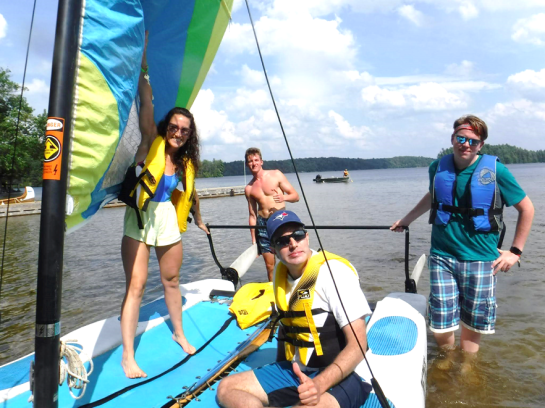 2016
Established in 2016 by founding members Tim Hogarth and John Firstbrook (co-captains), Randall Oliphant, Sue Creasy, and Bob Buchan (honorary chair), the Lake Joe Vision Team has evolved into a group of 6-10 philanthropic leadership volunteers who raise funds for highest priority needs and bursaries to boost participation at CNIB Lake Joe. As friends and neighbours of the camp, they lend expertise and advice to support and guide the philanthropic efforts that power program development and delivery at CNIB Lake Joe, while leveraging their networks to help build, strengthen and steward partnerships.

2017
CNIB Lake Joe hosted a Canada 150 Celebration BBQ event. Entertainment featured Annette Haas, Canadian singer, song writer and multi-instrumentalist, and Lucas Haneman, 2010 iFactor winner.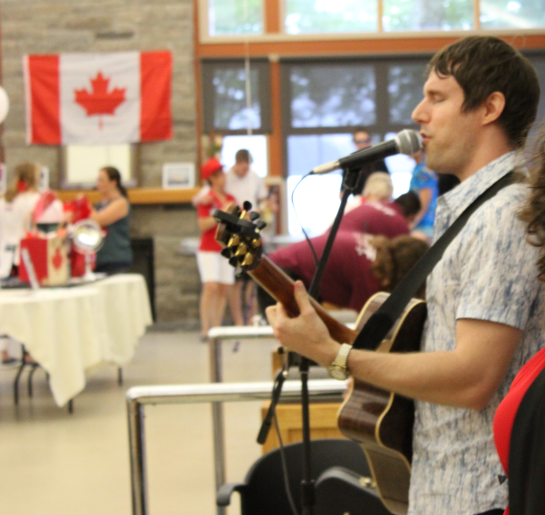 2018
CNIB celebrates its 100th anniversary with events across the country, including the CNIB Muskoka Clam Bake on June 23, 2018. Featuring live entertainment from Canadian recording artists Miss Emily, Shawn Brady, and the Northern Sons, a charity auction, a children's concert, wakeboarding show, fireworks display and fabulous food and drink – a splendid time was had by all!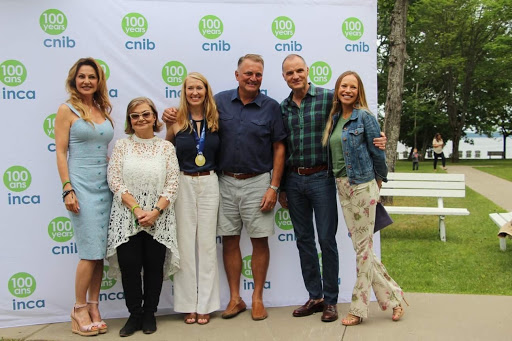 The CNIB Lake Joe Vision Team launched the Second Century Capital Campaign to raise $3.2M to support the camp's capacity to serve people with sight loss for years to come.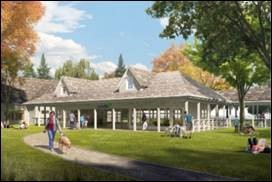 A donated boathouse was floated over from Lake Rosseau and installed at CNIB Lake Joe to increase opportunities for participants to get active through waterfront sports and activities.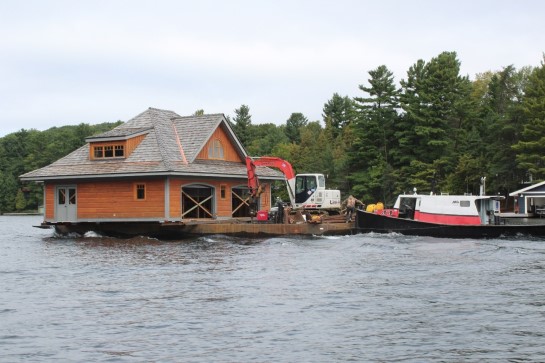 2019
CNIB Lake Joe welcomed 30 handlers and their guide dogs – a record number of dogs onsite at one time – from across the Country for the Guide Dog AdvoCamp. Generously sponsored by Royal Canin, the event brought guide dog handlers together to network with their peers and strengthen self-advocacy skills.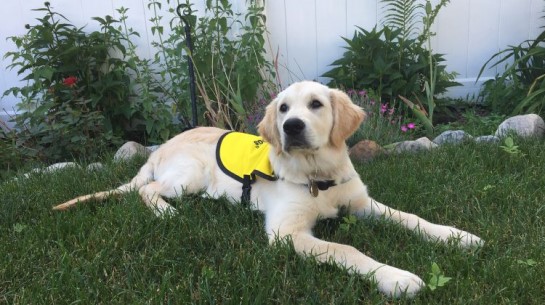 With funding from Canadian Tire Corporation, a brand new 1,800 square foot multi-sport court was built for guests to enjoy basketball, tennis, volleyball, etc. The shuffleboard court was also redone.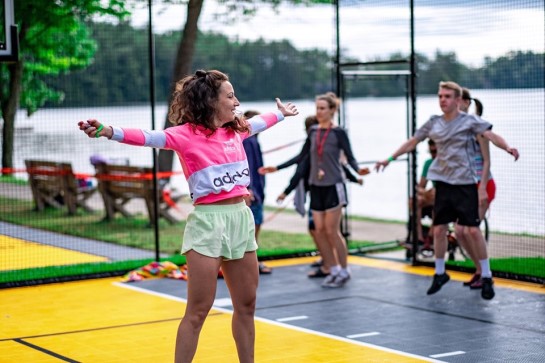 Connecting over 20 youth from across the country, the CNIB Leadership Development Program focused on developing the leaders of tomorrow through public speaking, advocacy and mentorship opportunities and the Counsellor-in-Training Program brought youth together for two weeks to refine their leadership abilities and job-readiness skills.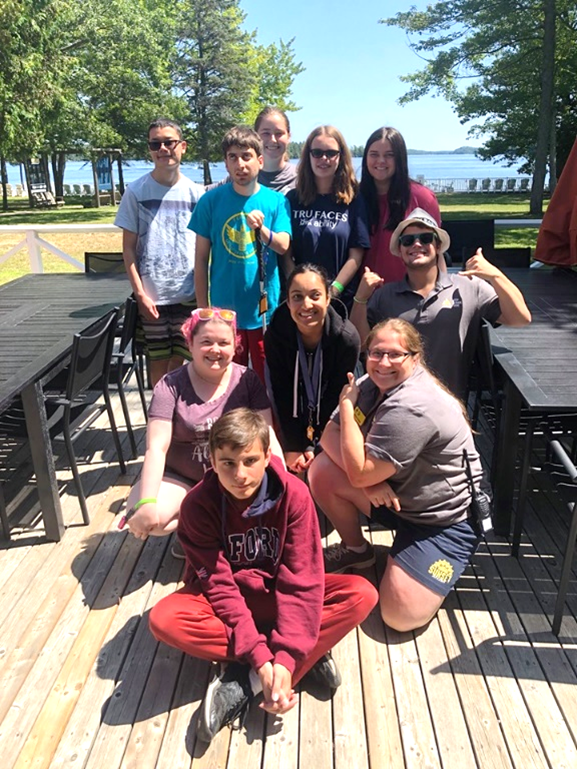 On August 24, more than 500 guests kicked up their boots at CNIB Muskoka: Taste of Country. The signature event raised funds to support seasonal expansion at CNIB Lake Joe. Featuring Joan Kelley Walker as emcee, live country music by Beverley Mahood and friends, a mechanical bull, spectacular fireworks – and much more – it was truly the event of the summer.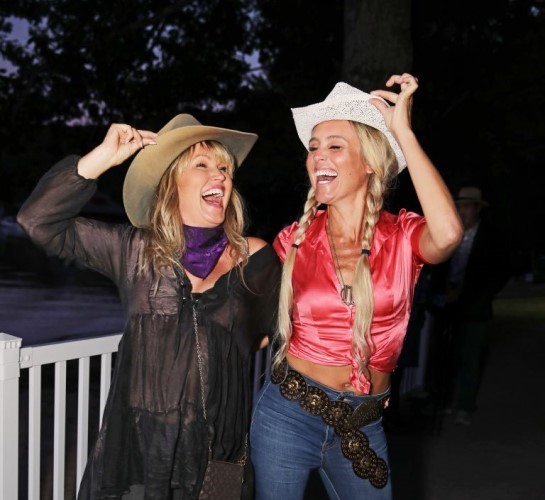 CNIB Lake Joe co-hosted the first international learning retreat for camp professionals serving people who are blind or have low vision, Oct 2-6, 2019. Co-hosting with LightHouse for the Blind and Visually Impaired's Enchanted Hills Camp for the Blind, CNIB Lake Joe welcomed camp staff from across Canada and the United States.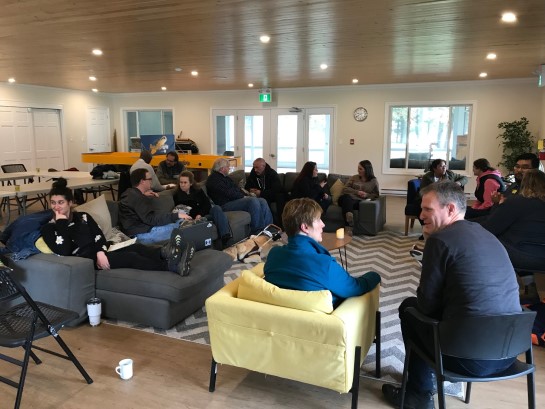 2020
The Dining Hall & Lounge – our social gathering hotspot – got a facelift with an acoustic retrofit and brand-new ceilings to reduce noise and make conversations clearer. This was made possible from a generous donations from the Ontario Trillium Foundation and CNIB Lake Joe supporters.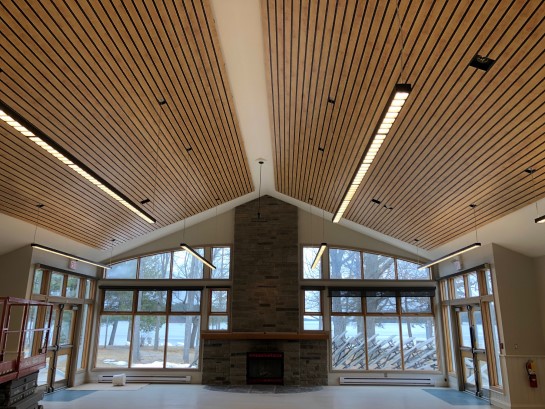 In response to the COVID-19 pandemic, CNIB Lake Joe reimagined its programming, launching virtual programs, CNIBLakeJoe@Home. From coffee chats to arts and crafts, trivia sessions and campfire singalongs, virtual programs provide opportunities for our community to gather, celebrate and learn year round. In addition, Camp-in-a-Box was created for kids to enjoy at home.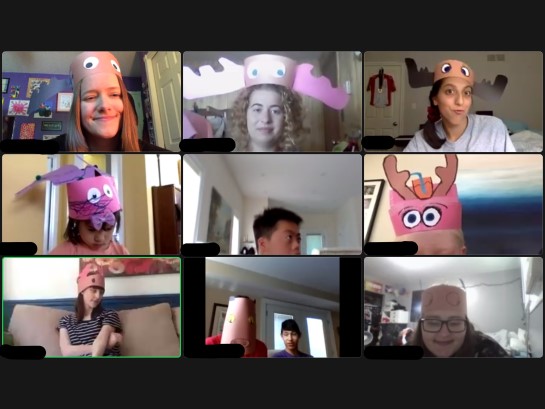 CNIB Muskoka: Dock-to-Dock: Party with a Purpose made history as Canada's first and largest socially distanced, synchronized dock-to-dock party from coast to coast. We welcomed more than 350 guests including "Dock Hosts", donors, sponsors, and volunteers. Joan Kelley Walker, Rod Black, and a fantastic lineup of musicians featuring Beverley Mahood added star quality!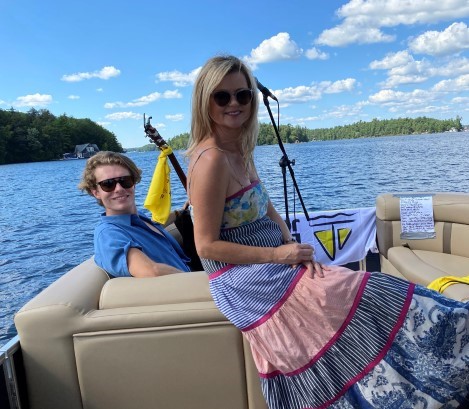 A new climbing tower was installed! Funded by generous donors at the 2020 CNIB Muskoka: Dock-to-Dock Party with a Purpose event and the Ontario Trillium Foundation, the accessible climbing tower stands 32' high with a climbing surface that will be 12' wide and comes with leading-edge safety equipment. Installed by Challenges Unlimited, this tower will be a star attraction in CNIB Lake Joe's new Adventure Zone.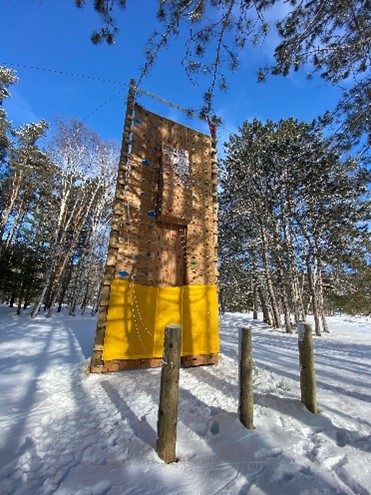 2021
Warm Memories and Bright Futures are being celebrated all year long as part of CNIB Lake Joe's 60th anniversary! 

Ripples: CNIB Lake Joe, a documentary produced by AMI reflects on the past and present with a glimpse into the future. It documents warm memories of the past campers and staff, current transformational experiences offered by the camp, and investments being made today to secure a bright future for the camp tomorrow. Through intimate portrayals of camp life, viewers discover skills learned, achievements, activities enjoyed, and the people campers have met at CNIB Lake Joe. As stories unfold, so do the ripple effects of the camp as campers exemplify how experiences from CNIB Lake Joe stay with them through life.
Holiday Weeks launched to safely re-welcome guests back to CNIB Lake Joe. This new offering invites guests who are blind or partially sighted to visit CNIB Lake Joe with family members from the same household. Holiday Weeks (August 2 – 20) focuses on independent, self-directed activities. While there is no formal programming offered, guests are encouraged to choose their own adventure and build their own experiences.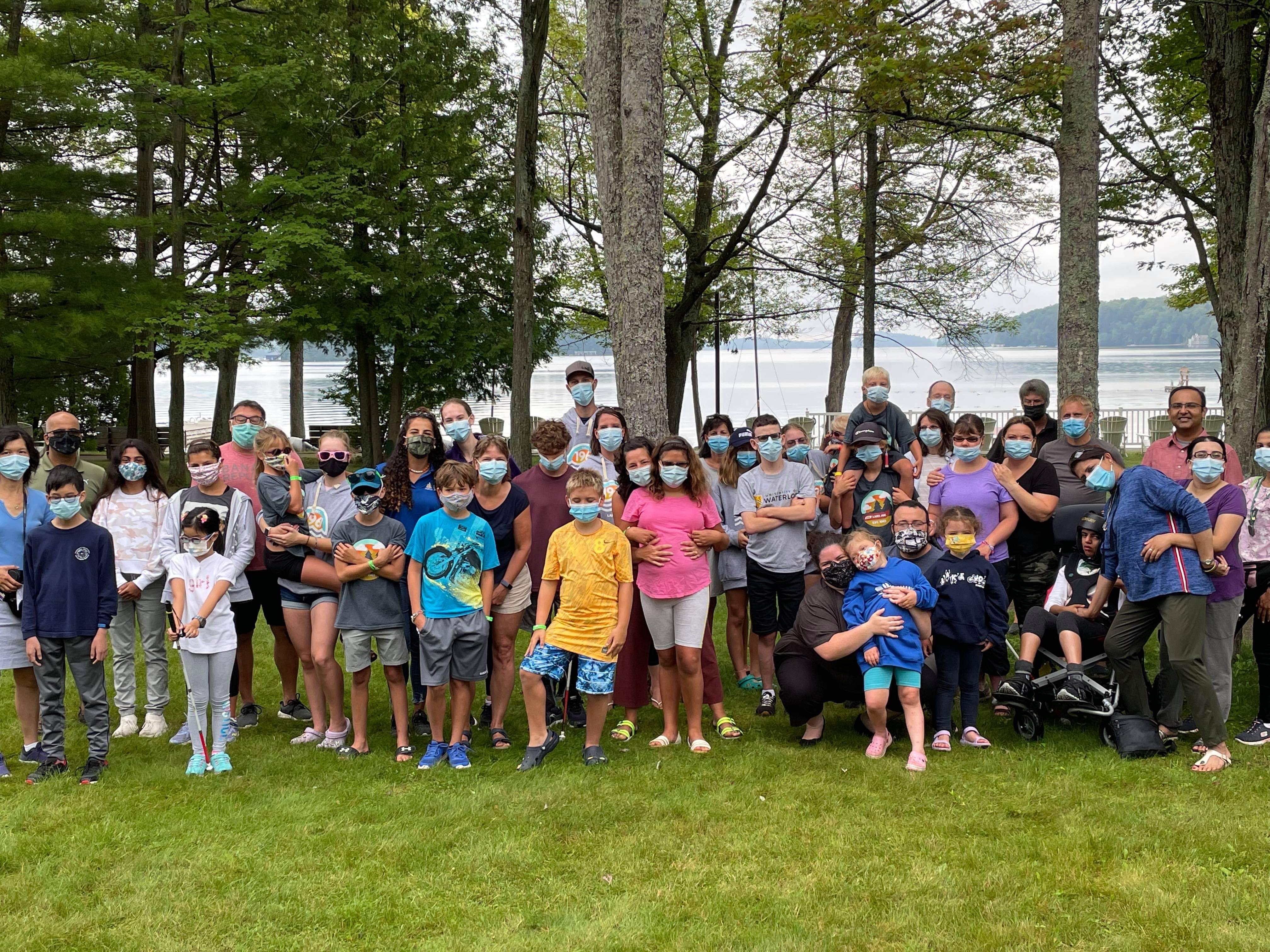 Through the generosity of its members, the Synthetic Turf Council (STC) donated a fully accessible soccer pitch, mini-golf course and amenities to CNIB Lake Joe. Marking the STC's very first international Community Service Project, CNIB Lake Joe hosted the dedication ceremony on Friday, September 24, 2021.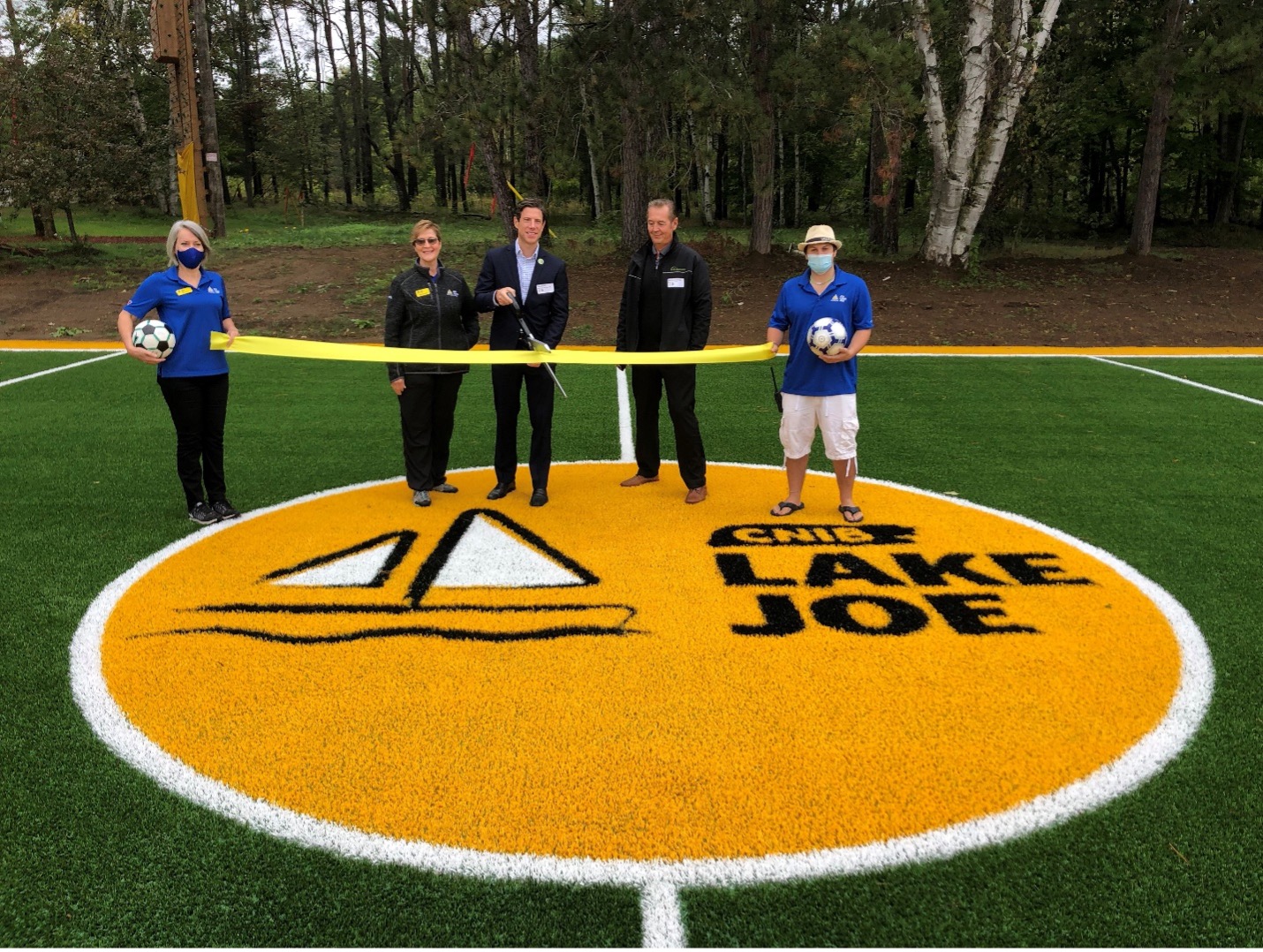 Celebrate with a donation to CNIB Lake Joe!