Main Content
CNIB Lake Joe has become a family vacation destination for the Knip family: Sarah, Josh and their children Caleb, Keagan, Avery, Hudson, and Nora. 
Three of their children live with sight loss. After learning about the camp from an Early Childhood Intervention Specialist in 2015, the family now visits every summer. 
"I thought we would come to CNIB Lake Joe every other year, but it's become our top priority vacation week," says Sarah. "It's a place where we feel comfortable letting our kids do their own things. Because of the accessible environment, they know exactly where they're going, and I know that they're safe."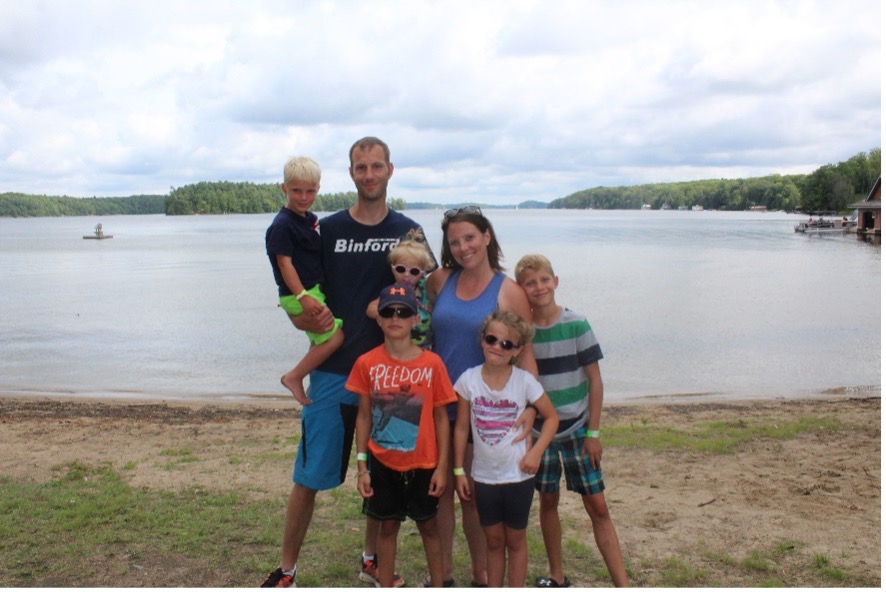 Every member of the Knip family looks forward to their week at CNIB Lake Joe. With all the activities and programs available, there's truly something for everyone. 
"My children love fishing, it was the first time they tried archery, and that beach area is amazing…nice and shallow and sandy," says Sarah. "The first year we went, Keagan was able to get up on a wakeboard. I was in tears…I never thought that would be possible for him."
But it's not just about the kids. 
"We don't usually get a lot of alone time as a couple, but at CNIB Lake Joe, there are tons of activities to do, the food is prepared, and we don't have to worry about clean-up," says Sarah. "I also love the laundry services and the fact that I can get all my laundry done before I go home. Going camping is so much work and going to a restaurant is expensive. A trip to Lake Joe is an affordable week for us with our large family."
At CNIB Lake Joe, the Knip family also met other community members living with sight loss.
"Last year, everybody added one another on Facebook, and we now follow them throughout the year. It's interesting to hear how other people have advocated for their kids and to know that you're not alone. This is especially the case as we come from a rural area where there aren't many families with sight loss."
While the family was disappointed they couldn't visit CNIB Lake Joe in 2020 due to the COVID-19 pandemic, they were excited to participate in the Camp-in-a-Box program. It allowed them to stay connected to the counsellors and people they've met at CNIB Lake Joe.