When COVID-19 began to emerge, it took the world by surprise. In what seemed like an instant, millions of lifestyles were changed when physical distancing measures were put in place. 
Like many around the world, Norma Cowell, a proud grandmother of three from London, Ontario, is facing the hardships created by the virus – including the loss of a dear friend.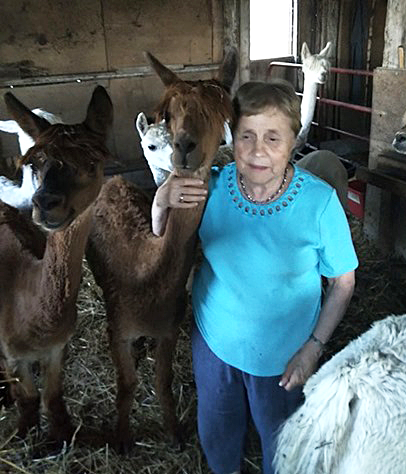 "I think this pandemic is so hard for people because we've never been through something like this before," explains Norma. "It's hard not knowing when things will return to normal, and I miss being able to visit my friends and family."
Born with chorioretinitis, a condition that left her legally blind in her 30s, Norma is an avid reader. Whether it's a gripping mystery novel or a cookbook that makes her mouth water, there's no page that Norma won't turn to help pass the time.
With such a passion for reading, it's no surprise that Norma signed up for CNIB, Read to Me!, a new storytelling program that enables participants to hear live readings – over the phone or online – from CNIB's dedicated volunteers.
The CNIB, Read to Me! sessions take place every Monday, Wednesday and Friday from 1 to 3 p.m. EDT. Mondays focus on essays, Wednesdays are for short stories, and Fridays feature readings of poetry – something that piqued Norma's interest.
"I think when you start listening to things like poetry, it helps you relax and get away from yourself for a while – you can leave your worries behind," says Norma.
In addition to providing participants with a brief escape from their troubles, CNIB, Read to Me! helps listeners establish a routine – something that Norma believes is crucial during these uncertain times.
"If you're not working and you're at your wits end at home, the CNIB, Read to Me! program helps introduce a schedule to your day," Norma explains. "You think to yourself, 'Oh, I'll have to do my cleaning earlier today because I have my CNIB, Read to Me! call in the afternoon."
After attending a few of the sessions, Norma had nothing but praise for the program. Aside from a few minor 'blips', the program ran smoothly.
"I was impressed by the volunteers who perform the readings," adds Norma. "In my books, they're really professional and very generous with their time."
When Norma isn't tuning in for an afternoon of stories, she passes the time by phoning friends. 
"Making calls helps keep my spirits up," says Norma. "There's a saying I heard years ago that goes, 'Happiness is like perfume – you can't sprinkle it on others without getting a little bit on yourself.'"
Norma would like to thank the CNIB Foundation for everything it is doing to provide support for Canadians with sight loss during COVID-19.
"Kudos to the CNIB Foundation for coming up with all these programs – I really appreciate what the organization has done," says Norma. "And thank you to all of the volunteers who are helping out."
To learn more about CNIB, Read to Me!, visit: cnib.ca/en/sight-loss-info/covid-19-resources/cnib-read-me