Main Content
As Cindy Shone's sight worsened, she found herself experiencing feelings of isolation. Reluctant to travel alone, she frequently turned down social invitations from friends and family.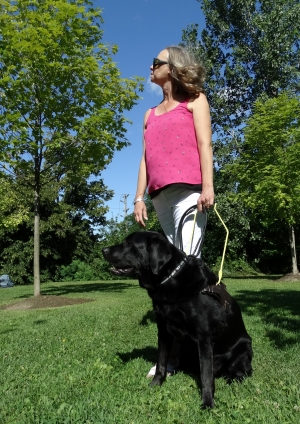 Cindy was eager to get moving for her health and independence. She had been thinking about a guide dog partnership for some time and submitted an application with CNIB Guide Dogs. 
During her initial interview and assessment, Cindy got a taste being a part of a guide dog team – a transformational experience.
"About an hour and a half into the interview, we did a harness walk with a guide dog, and I just couldn't believe the sensation of how fast I was walking," says Cindy.
When CNIB Guide Dogs officially matched her with Barney, a black Labrador/Golden Retriever cross, she was immediately overcome with feelings of gratitude and joy.
"When they told me, they had a match for me; I was very emotional," says Cindy.
She traveled to Ottawa to meet Barney and attend formal training.
"It was quite intense, and the days were full. We got up every morning and were immersed in it," says Cindy. "So many things to learn, but I absolutely loved the whole process."
A first-time guide dog handler, Cindy says she particularly valued the networking opportunities and advocacy skills training that she has received as part of the program.
"The guide dog team is compassionate, caring and they go above and beyond," says Cindy. "Barney gave me back my independence. I've only had him for eight months, but I trust him and feel safe with him."