Before receiving a smartphone through CNIB's Phone it Forward program, Bill Chadd's friends told him about the day-to-day tasks a smartphone could help him with. 
Despite their efforts, Bill didn't think about a smartphone until a routine medical appointment. 
During his appointment, Bill's doctor, a long-time supporter of CNIB and Phone it Forward, demonstrated the iPhone's accessibility features and apps. 
"She pressed a couple of buttons, and the phone started telling me what colour my hair and eyes were," says Bill.
Bill then registered for the Phone it Forward program and received a donated smartphone along with personalized one-on-one training from Kiri Butter, a technology lead with CNIB in Thunder Bay.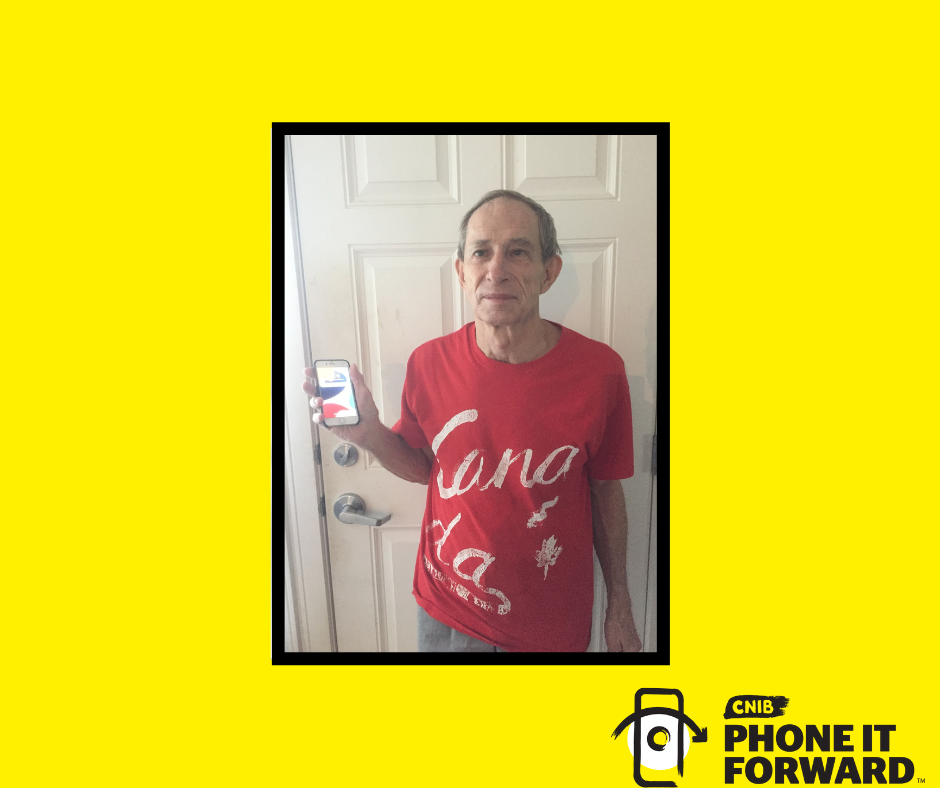 Through his training, Bill learned how to access different smartphone apps. 
"Kiri helped me learn how to text – it's a lot easier than I thought. I can use Siri to send messages and answer phone calls," says Bill. "I rarely connected with one of my friends who moved to Manitoba because I didn't have a phone. Now we can exchange messages as much as we want." 
Bill says he is still learning. 
"My two favourite apps are Be My Eyes and Seeing AI. With Be My Eyes, I can connect with a volunteer from anywhere in the world who can help me navigate. I've had volunteers help me pick out the best colour of tie to wear, and I've even had someone help me change the settings in my refrigerator," says Bill. 
In early 2020, Bill was matched with a student volunteer as part of secondary school program with his apartment building. Bill says the two of them have built a great relationship, and even though he has more than enough support from CNIB, he is glad to have someone else on the sidelines cheering for him.
"He (my volunteer) gets very excited every time I learn something new. He's of the generation that picks up a smartphone or tablet and automatically knows what to do with it, so he has been extremely helpful and supportive of my learning. Sometimes he's even more excited about me learning something than I am," says Bill.
When Bill revisited his eye doctor in 2021, he mentioned he received a phone through CNIB's Phone it Forward program. His doctor was thrilled. 
"When I think of CNIB, I often think 'here's a group of people who really care,'" says Bill. "It's an incredibly powerful thing to reach out to someone just to help. None of us can ever really grasp how much our actions can make a difference in someone's life. That's what this phone and the support from CNIB have done for me. Thank you!" 
Donate your gently used smartphone to CNIB's Phone it Forward program. Visit phoneitforward.ca to learn how.