Main Content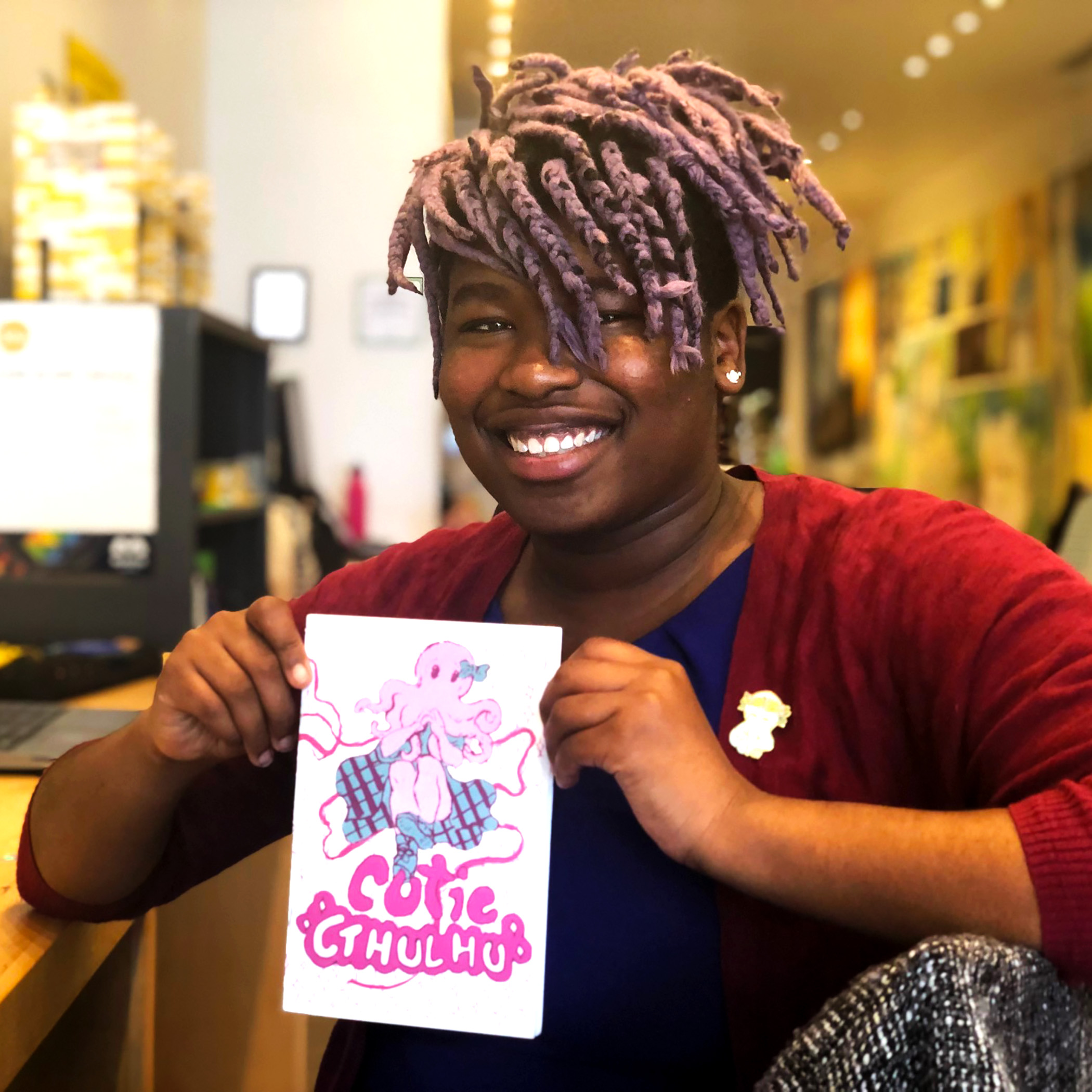 Clover Thursday is the person you remember, even if you've only met her for a moment. She has an easy smile, her hair colour is forever-changing and she's covered in art. Pins and patches of cute cartoon characters—mermaids, octopuses and other creatures of pastel whimsy—are spread out before her on a desk.
Clover's real last name is Akuoko-Dabankah, but she goes by the pen name  Thursday, which comes from her nickname "Yaa". It's Twi, a Ghanaian dialect, and means girl born on Thursday. She's a recent graduate of the Ontario College of Art and Design (OCAD), with a degree in design.  She's also one half of Bae & Boba—an Etsy shop where she sells accessories like pins, patches and vinyl stickers, all designed with her friend/business partner Tori. The idea for the name was simple: "I draw lots of ladies and Tori loves bubble tea [boba] and makes cute things," says Clover.  "I met her in thesis class during my last year at OCAD. We became friends and decided to do this together. I'm kind of a blue-sky thinker and she's in the books." A dynamic pair.
The two divide the revenue based on who designed the product. Their biggest investment is enamel pins, which they outsource (although the designs are their own.) The store opened in late 2018, with sales coming from customers in B.C, California, and even France and Australia. Clover plans to launch a crowdfunding campaign next year; currently, she and Tori fund Bae & Boba themselves.
"The shock was how much money you put into it," Clover says. However, she's considering doing events like the Toronto Pin and Patch Show when sales go up. Pin culture, she says, is a huge trend in Canada now. One need only look around any city to see cyclists whose backpacks are smattered with them, or denim-clad individuals with political and artistic pins lining their jackets.
Her bestselling item is "Tulips and Tentacles", a mint-coloured octopus pin with a flower crown and bashful eyes. A hardcore octopus fan, Clover also draws a comic called Cutie Cthulhu, in which the title character is a teenaged girl with an octopus face. It's a metaphor, says Clover, for the way you perceive yourself as an adolescent. "Every time she's in front of a mirror, she sees herself as a weird, inky, squiddy thing," Clover explains. "It's a very coming-of-age time."
Clover tends to work with ink, brush pens, fine liners, ink and brush, and digitally with Illustrator or Photoshop.
Many people at school didn't even know she had Stargardt disease in both eyes. Clover was misdiagnosed with Retinitis Pigmentosa as a child but found that she had Stargardt at age 18—just after she received her acceptance to OCAD for design. After a conversation with her doctor, Clover decided she would go to school anyway. Art had been her life since she opened the low-quality manga drawing guide she got for her seventh birthday and used it to practice sketching.
For the most part, Clover says doing design with Stargardt isn't challenging as long as she takes breaks. If she concentrates for too long, her vision starts to fill up with stars or fuzziness. She thought she couldn't be the only artist who was partially-sighted though, and she was right! Right now, she works as a Youth Leadership Intern at CNIB. After she began working for CNIB, she met many other creatives with sight loss.
For now, she's happy with Bae & Boba but she dreams of making it into her own studio one day. She'd love to have the equipment to produce products in-house and offer production services to other artists. "It would be a nice way to give back and support the making of things," she says.
Though she's no stranger to the nine-to-five day job, Clover wants to make art her full-time career in the future.
"It's a tough world out there," she says, "but I think I'll keep an open mind." Once a unicorn, always a unicorn.