Main Content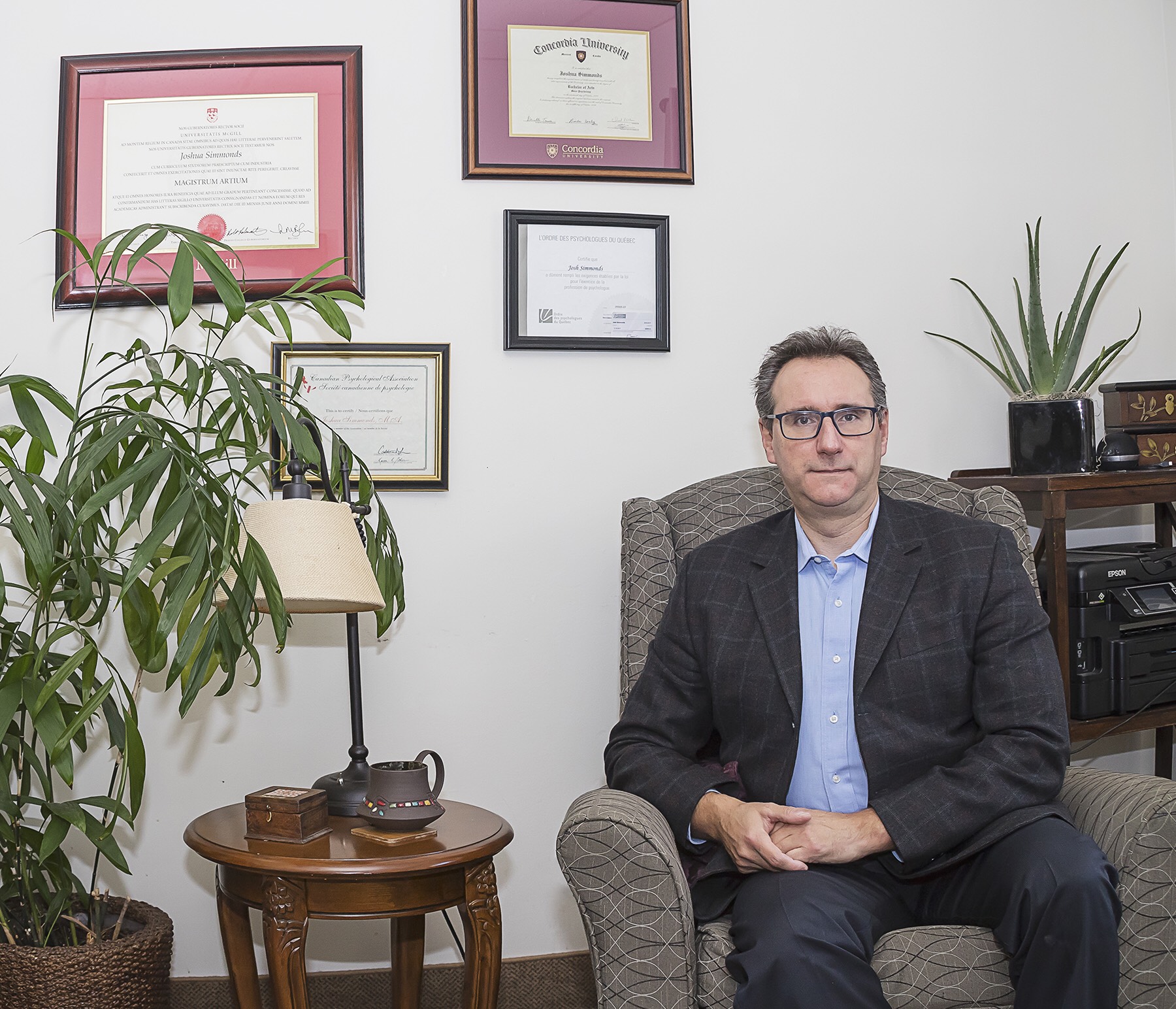 On any given work day, Joshua Simmonds knows he might sit down with people who have traumatic or emotional stories to tell. It can be wearisome, but he says it's important to set boundaries and separate your personal and professional lives. Besides, he loves listening to people.  
A clinical psychologist based in Montreal, Joshua has been running his practice since 2003. He says he hardly does any explicit advertising for his services apart from having a page on Facebook and LinkedIn. Sometimes if you're good enough at what you do, people will come to you.  
Before getting into psychology, Joshua was a barista who "made a mean cappuccino". While working in coffee shops like Second Cup, he often listened to customers tell him about their lives. His original plan was hotel management. Although he enjoyed the food and tourism industry, he felt that it wasn't a viable option when he started losing his sight. He has retinitis pigmentosa (RP) and was legally blind by his 20s. He took the opportunity to go back to school. 
Because Joshua is legally blind, Québec laws allowed for his loans to be turned into bursaries. That meant he could study psychology, which he thought he couldn't afford.  
Sight loss is an asset, according to Joshua. "Walking in with a cane—or having my clients recognize me as someone who doesn't see well—almost provides them a bit of ease," he says. He believes when clients see he has a disability, they feel he can better understand what they're dealing with. "You have to practice what you preach," he says. "If I'm not willing to deal with adaptive aids or support, then how am I expecting my clients to do so?" 
"It was a dream, something I never thought I'd be able to do," Joshua says.  
Learning to charge properly for your services can be a challenge. When Joshua first started his practice, he says he priced himself too low. Over the years he realized that if you do a good job, you need to acknowledge that and set an appropriate price point. At the time, he worked at a call centre and a hospital part-time to make more money. That helped him become financially stable enough to practice full-time. 
As a psychologist, Joshua spends a lot of time on his own, but he knows it's important to have a support system. That's why he did so much part-time work and why he makes sure to be involved in his community. Joshua helps manage a local dragon boat team whose members have sight loss. "Surround yourself with other people who are vision-impaired and are entrepreneurs," Joshua says. He adds that having a good network helps alleviate stress. More importantly, sight loss doesn't have to define you, it can just be a part of you. 
"You are capable," Joshua says, "and you are worth it."