Main Content
Zach, a 12-year-old boy with sight loss, has been practicing his orientation and mobility skills for many years with the goal of partnering with a guide dog someday. So, when CNIB Guide Dogs approached his family with an opportunity to partner with Elsie, a Golden Retriever who has been trained as a Buddy Dog, it seemed like the perfect opportunity.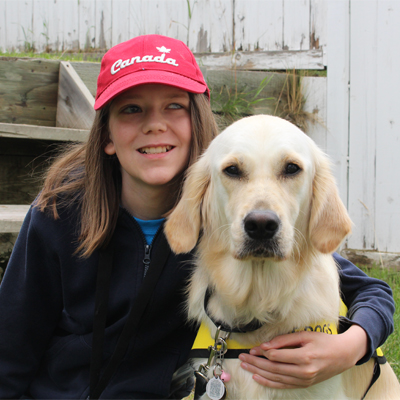 Whether it's feeding, grooming or walking Elsie, Zach told us that his relationship with her will help him prepare for a guide dog.
"a) I will be able to know how to take care of a dog; b) I will be more comfortable being around dogs; c) It just makes me more responsible in general, which is a good thing," says Zach.
Zach and his family attended a three-day training session in Calgary with Miriam Mas, Lead, Buddy Dog Program, CNIB Guide Dogs.
"We learned how to train and care for Elsie, which put my husband and me more at ease," says Chris, Zach's mom. "Within just a few days, Elsie has given Zach a lot more confidence and a sense of responsibility. He thinks of her first when he wakes up. He says 'OK, I've got to do Elsie's responsibilities before I have my fun!'"
What's the best thing about having a Buddy Dog?
"I just find it is nice to have someone that's just like kind of there all the time, someone that doesn't hold grudges," says Zach.
Chris is encouraging others to consider the Buddy Dog Program.
"We felt that a Buddy Dog would teach Zach how to care for a dog. Elsie is going to set him up for future success and make it easier for him to transition into a guide dog partnership when he's older," says Chris. "CNIB Guide Dogs has been great – they've found the perfect match for Zach."