Main Content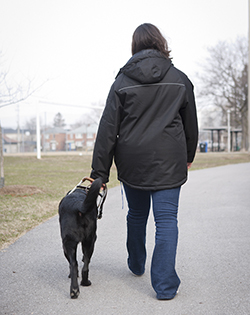 Welcome to the launch of "Access Tales", where handlers share their experiences (good & bad) with guide dog access. It is important to tell these stories to raise awareness.
Recently, my family and I were booking a hotel for vacation. After telling the staff that I would be travelling with a guide dog, I was told that their hotel didn't accept dogs – even guide dogs. I contacted management immediately to let them know that it was against the law to deny access to someone who works with a guide dog. I told them I would be filing a complaint. When there was no response, I reached out to the media. Often, this is the quickest way to resolve the issue. Once a reporter contacted the hotel staff, they were quick to respond with an apology. Since then, they've amended their "no pets" policy to clearly explain that guide dogs are welcome. The hotel also offered us 500 Euros towards our hotel stay (which was somewhere else). The story received a fair amount of media attention – it raised awareness in Ireland and beyond.
If you have a story to share, please email Victoria.Nolan@cnib.ca or Ashley.Nemeth@cnib.ca.