Main Content
Building a bolder, brighter future 
Welcome to On Target, our quarterly e-newsletter committed to keeping you informed about the progress we're making towards achieving the three strategic ambitions outlined in our strategic plan, "Bold dreams, bright futures".
In this issue, we hear from Kevin Shaw about the new CNIB Venture Zone app, and we check in with Peer Support Facilitator, Pascal Marcil. We also chat with Larissa Proctor about her experience with CNIB Guide Dogs, and we learn more about TechnoVision+ in Quebec.
-CNIB Foundation (Ontario & Quebec)
 
Ambition #1: Boosting participation in the world of work
A job is so much more than just a paycheque: it's a means to self-reliance, a source of identity and pride and a gateway to a brighter future. From the moment children are old enough to dream what they'll be when they grow up, through every stage of their education and careers, we're fuelling their ambition and championing their equal participation in the world of work.
CNIB Venture Zone App
How do you teach entrepreneurship to someone? Kevin Shaw, an entrepreneur with experience developing apps, knew an educational game was the way to go.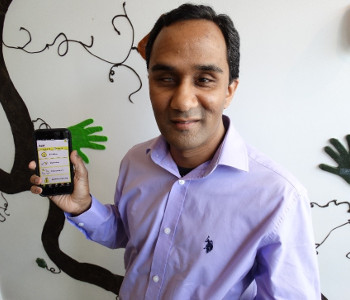 After a year of consultation and development with Totem Learning, the CNIB Foundation launched the Venture Zone App in May 2019.  
The Venture Zone Game is a free app that provides Canadians with an accessible, fun and risk-free way to gain entrepreneurial experience. 
"It's a fun business simulation game where people can market, brand and sell a product while learning how to run a production-based business," says Kevin Shaw, Program Manager, Entrepreneurship & Innovation, CNIB Foundation "We hope that by playing the game, participants will learn what it takes to actually run a business."
The game was designed for aspiring entrepreneurs with sight loss, but it can be enjoyed by anyone.
"The game brings people together to compete and learn, but it's also an opportunity to build something that's going to connect people over something fun," says Kevin. "And, that's not something we see a lot with games that are designed for people who are blind or partially sighted."
The feedback has been overwhelmingly positive.
"I've had several people tell me they can't stop playing the game because they want to up their high scores!" says Kevin.  
The Venture Zone Game is available to download for free on the Apple App Store, exclusively in Canada. A French version of the game will be released later this summer. 

In the News
Read more articles from the July 2019 issue of On Target:
Making the Future Bright 
On Target is published quarterly. Missed an issue? Catch up here!
Get the latest updates by following us on Facebook and Twitter.