Main Content
Building a bolder, brighter future 
Welcome to On Target, our quarterly e-newsletter committed to keeping you up to date about the progress we're making towards achieving the three strategic ambitions outlined in our strategic plan, "Bold dreams, bright futures".
In this issue, we hear from Deloitte Canada (a partner with the CNIB Foundation's Come to Work program) about inclusive workplaces, and we check in with Amanda Cape, Program Coordinator, Come to Work. We talk to Danika Blackstock about her experience with CNIB Guide Dogs, and we hear from someone who received a smartphone through the CNIB Foundation's Phone it Forward program. Plus, we update you on CNIB's advocacy initiatives.
-CNIB Foundation (Ontario & Quebec)
 
Ambition #1: Boosting participation in the world of work
A job is so much more than just a paycheque: it's a means to self-reliance, a source of identity and pride and a gateway to a brighter future. From the moment children are old enough to dream what they'll be when they grow up, through every stage of their education and careers, we're fuelling their ambition and championing their equal participation in the world of work.
Meet Amanda Cape, Program Coordinator, Come to Work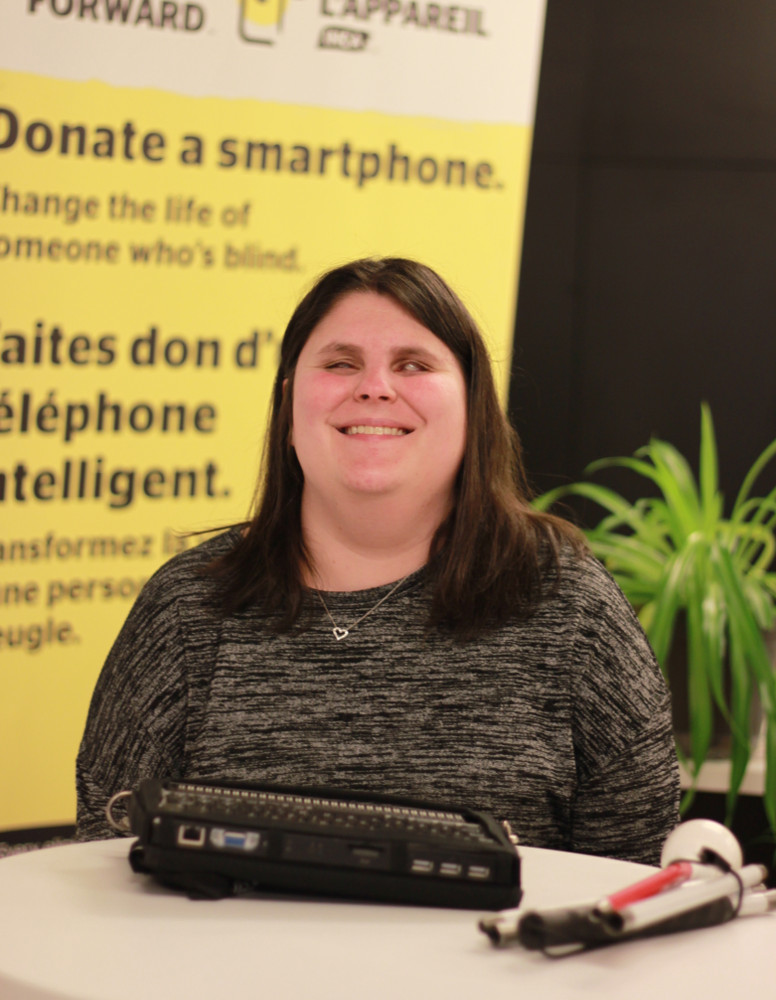 Armed with a Bachelor of Social Work degree from McGill University, Amanda Cape spent nearly two years trying to secure full-time and permanent employment in her field. 
Despite three placements and numerous volunteer positions, she constantly encountered barriers (mainly stigma) while applying and interviewing for jobs as someone with sight loss.
"I had multiple interviews at various places. Every time I was told that I wasn't the right fit or I didn't have the experience," says Amanda. "At some point, you wonder if it's experience or people's perceptions." 
In the fall of 2018, Amanda was offered an internship with the CNIB Foundation (Ontario & Quebec). Motivated by her own experiences, she joined the team as Program Coordinator, Come to Work – a new program that connects job seekers who are blind or partially sighted with employers who want to discover the full potential of Canada's talent. 
"This position resonated with me and connected with my skills," says Amanda. "Not enough doors are opening. Through Come to Work, we're trying to break down some of those attitudinal barriers, including prejudice."
Amanda says it has been rewarding to connect with participants in the Come to Work talent pool. Some of the job seekers would like to work in administration or IT while others would like opportunities in the legal field or social work.
"The program is so new – it's constantly growing and changing, which is exciting," says Amanda. "My position comes with a lot of responsibility. I'm continuing to learn every day."
Her advice to other job seekers? 
"Don't settle or put limits on your abilities," says Amanda. "Always take advantage of networking and volunteer opportunities. These experiences have served me well."
Come to Work partners are committed to engaging talent with different perspectives to create a culture of collaboration and innovation. Visit cometowork.ca to get involved.
 
Read more articles from the April 2019 issue of On Target:
Making the Future Bright 
On Target is published quarterly. Missed an issue? Catch up here!
Get the latest updates by following us on Facebook and Twitter.