Contenu principal
Ambition #3: Driving achievement and equality
Life is a beautiful, wonderful, crazy thing. Life with blindness should be no different. We're emboldening people who are blind or partially sighted to lead independent, active lives and chase their dreams – and we're smashing the stigma and barriers that stand in their way.
A CNIB Guide Dogs partnership 
Ten years ago, if you asked Larissa Proctor if she ever thought she would have a guide dog, the answer would have been a resounding no. Over time, as her vision declined, she was open to the possibility of a guide dog partnership. 
"I'm a fast walker and I was finding that I had to slow down to avoid obstacles," says Larissa. "Places I wasn't familiar with would cause me a lot of anxiety and I thought that a guide dog would help ease some of that."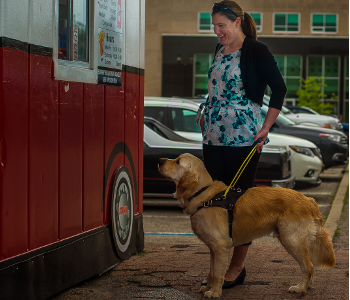 In the spring of 2019, Larissa met with CNIB Guide Dogs and submitted an application. A few weeks later, she got the call that would change her life: she was officially matched with Piper, a 69 lb. Golden Retriever.
"As soon as I found out I was partnered with Piper, I was over the moon with anticipation and overcome with gratitude," says Larissa. "CNIB Guide Dogs really took my work and home life into account and made sure I got a dog that could work in different environments."
Larissa says the training process was an exciting and challenging learning experience that was truly tailored to her lifestyle. 
Two months into this partnership, she says the most surprising thing she's learned is how reciprocal the relationship truly is.
"I've heard a lot of people say it's really a partnership, but it doesn't sink in until you're out in the world working together," says Larissa. "He's made more of a difference than I expected. I can't articulate all the gratitude I feel. To his puppy raisers, trainers, everyone who made this possible – thank you."
 
Read more articles from the July 2019 issue of On Target: