Main Content
Ambition #2: Unleashing the power of technology
Technology can level the playing field for people who are blind or partially sighted – but only when it's accessible, available and affordable. We're fighting to connect people of all ages with the cutting-edge technology they need and want and helping them build the skills to capitalize on its potential.
CNIB Tech Fairs
Technology is transforming the lives of people with sight loss, and the CNIB Foundation is excited to continue to bring the latest in cutting-edge technology to local communities.
In the spring, the tech fair visited London, Sudbury,Thunder Bay, and TechnoVision+ (one of the largest technology trade shows in Canada for people who are blind or partially sighted).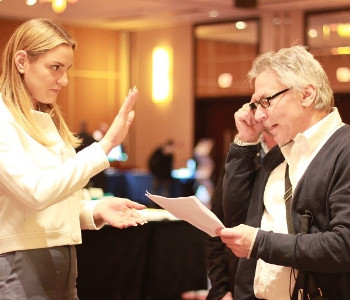 With more than 20 exhibitors in attendance and 300 visitors, TechnoVision+ attendees had an opportunity to explore a wide range of low-tech and high-tech devices, attend seminars, discover new products and services, and learn more about the latest in cutting-edge technology.
Dr. Richard Bazin, an ophthalmologist with L'Hôpital du Saint-Sacrement, delivered a special presentation about the successful implantation of a telescopic lens in the eye of a woman with macular degeneration - a Canadian first. Called an intraocular telescope, Dr. Bazin was the cornea expert who performed the surgery.
The event was well received with visitors commenting on how inclusive, enriching and essential the trade show is. 
"I particularly enjoyed the devices being demonstrated. The staff at the kiosks were very welcoming and took the time to explain things to me," said one participant. Another loved "seeing the latest technologies and services, being able to meet and reconnect with people!"
Some lucky guests left with raffle prizes, including a computer with accessible royalty-free software, an electronic magnifier, a Victor Stream and accessible online music lessons.
Exhibitors established new contacts, and all promised to return next year. 
The 2019 TechnoVision+ event would not have been possible without the support of our exhibitors, speakers, volunteers and donors. A special thanks to AMI-TV.
Read more articles from the July 2019 issue of On Target: