Main Content
LONDON, September 23, 2019 – On Friday evening, Superhero's of all ages gathered in London to serve, protect and fundraise for a local cause – the CNIB Foundation. Community members participated in CNIB Night Steps, a Superhero Walk, to support CNIB Foundation programs in London.
The event also recognized the Ontario Trillium Foundation's support of the expansion of technology programs in the London area. Local MPP Terence Kernaghan and OTF Grant Review Team member Peter Fleming was on hand to congratulate the CNIB Foundation and hear more about how a $75,000 OTF Seed grant is helping people who are blind or partially sighted unleash the power of technology and develop strong connections in their community.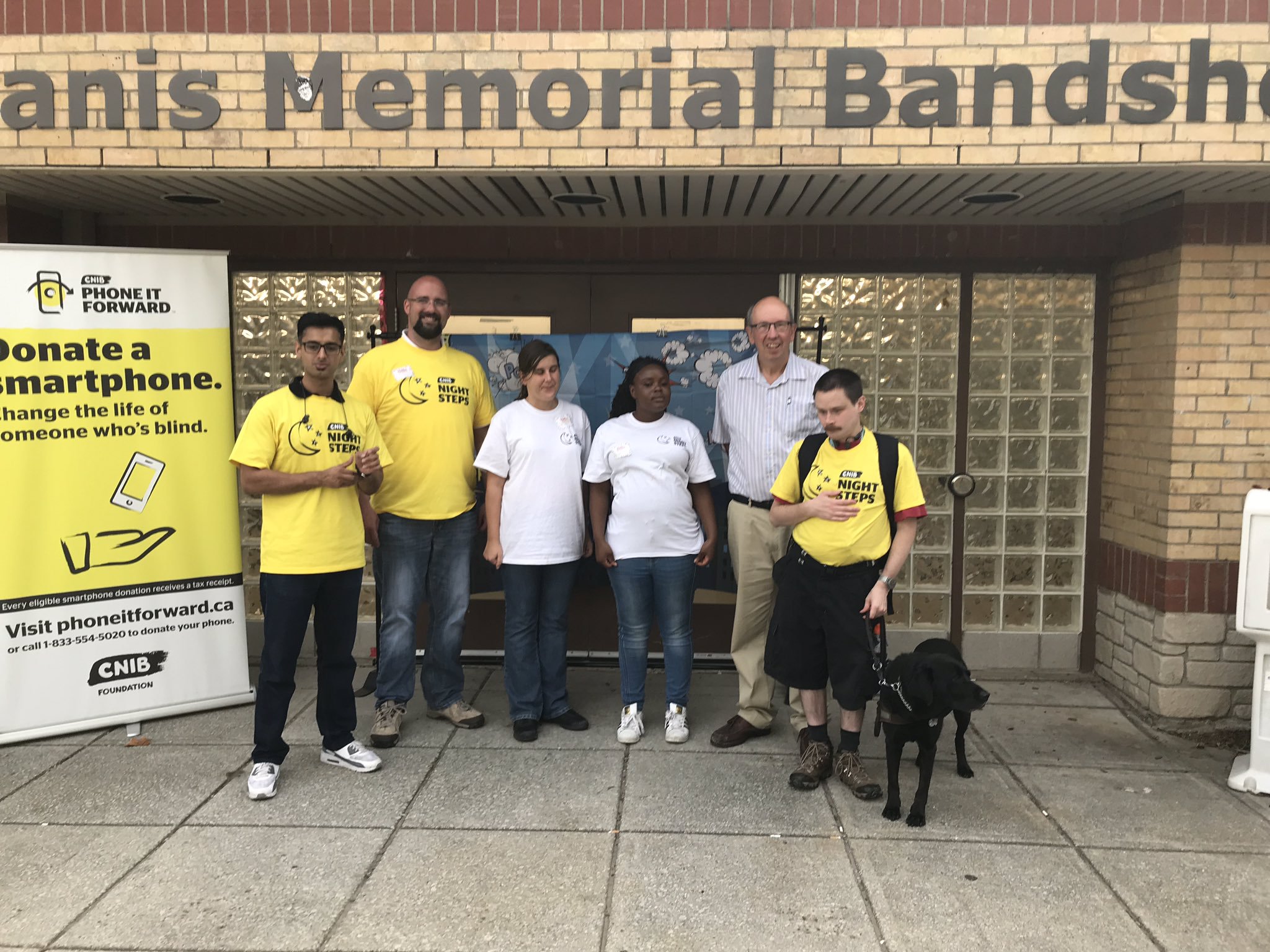 "It's exciting to learn how this project is breaking down barriers that lead to social isolation of those impacted by blindness and how it will help people realize their dreams," said Terence Kernaghan, MPP for London North Centre. "Combining social, employment, recreation, and education, this program addresses many integral aspects of life. By developing cutting edge technology, CNIB promotes accessibility and inclusion, two key components of a strong and vibrant community. People with sight loss can do anything, thanks to CNIB and the Trillium Foundation."
"Technology can level the playing field for people who are blind or partially sighted – but only when it's accessible, available and affordable," said Arjun Rijhwani, Program Lead, Technology & Accessible Communities, CNIB Foundation Ontario West. "This seed funding by the Ontario Trillium Foundation has allowed us to pilot and grow local accessible technology programs to connect people of all ages with the cutting-edge technology they need and want and helping them build the skills to capitalize on its potential."
Funds raised at CNIB Night Steps supports local programs and powerful advocacy that empower people impacted by blindness to live their dreams while tearing down barriers to inclusion. 
"From teaching participants how to unleash the power of technology – to making sure children and parents have the best school experience possible, these vital programs are emboldening people who are blind or partially sighted to lead independent, active lives, but we couldn't do it without your support," says Anne Marie Grant, Manager, Philanthropy CNIB Ontario West. "I'd like to thank everyone who participated; whether you registered for the walk, pledged a participant or sponsored the event, your support is truly making a difference."
The Ontario Trillium Foundation (OTF) is an agency of the Government of Ontario, and one of Canada's leading granting foundations. OTF awarded $108 million to 629 projects last year to build healthy and vibrant communities in Ontario.
About the CNIB Foundation
Founded in 1918, the CNIB Foundation is a non-profit organization driven to change what it is to be blind today. We deliver innovative programs and powerful advocacy that empower people impacted by blindness to live their dreams and tear down barriers to inclusion. Our work as a blind foundation is powered by a network of volunteers, donors and partners from coast to coast to coast. To learn more or get involved, visit cnib.ca. 

-30-

For more information, please contact:
Karin McArthur 
Lead, Marketing & Communications
CNIB Foundation Ontario
437-922-7353
Karin.McArthur@cnib.ca