Main Content
In May, the CNIB Foundation held a private preview reception at TechnoVision+ in Quebec City to educate and empower employers to create accessible and inclusive workplaces.
With more than 40 guests in attendance, including politicians and Come to Work partners from Service Triad, Randstad and Microsoft, guests learned about the benefits of recruiting and hiring people who are blind or partially sighted.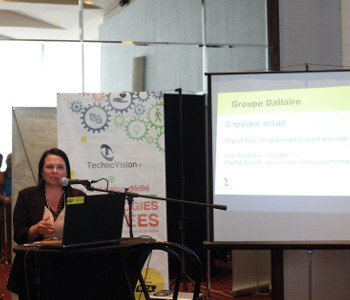 Wearing blindfolds, attendees participated in an awareness activity, challenging them to learn more about workplace accommodations and technologies for employees with sight loss.
Sophie Bradet and Loai Essabawi from Groupe Dallaire delivered a moving testimony about their experience working alongside Miguel Ross, a developer and programmer with sight loss – they praised him for his excellent work and contribution to the team
The event also introduced CNIB's new nationwide conference: Connecting the Dots – the largest educational and professional development experience focused on technology, employment and literacy for people with sight loss. 
Did you know? The cost of hiring an employee who is blind is the same as hiring an employee who is sighted. 
 
In the News
Read more articles from the July 2019 issue of On Target: