Event Type
Career and Employment
Location
CNIB London Community Hub
171 Queens Ave. Suite 101. (entrance on Richmond)
London ON N6A5J7
Canada
Calling all entrepreneurs and aspiring entrepreneurs!
The work world has changed. Entrepreneurship and self-employment are a growing part of our work culture. Many people with sight loss run their own businesses and you can too!
Announcing CNIB Venture Zone meetups – a monthly entrepreneurship networking event for current/aspiring entrepreneurs with sight loss. 
Venture Zone meetups will feature panel discussions with industry experts, interactive activities and an opportunity to network with colleagues from the world of business.
Learn more about the different aspects of being self-employed. Meet a network of local entrepreneurs and professionals to share tips and problem-solving techniques, brainstorm ideas and get advice on your ideas.
Turning Bold Dreams into Reality
Join your fellow aspiring entrepreneurs at the London Community Hub for an exciting night of networking followed by a live panel. The panelists are all blind or partially sighted and have carved unique paths for themselves in their careers. The panel will be followed by a round of speed-networking: speed-dating for entrepreneurs!
The panel will be recorded for the Venture Zone podcast and live-streamed on Facebook.
The Panelists: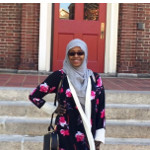 Rahma Ali
Rahma Ali is the founder and host of the Accessibility Futurists of Tomorrow podcast. A business student at McMaster University, Rahma has a passion for business, advocacy and technology. She's a computer tutor at the Neil Squire Society, CNIB Ambassador and assistive technology volunteer. Rahma is also a self-taught coder and hacker at a recent Harvard Hackathon. She's a think tank presenter and competes in pitch competitions at the University of Toronto. Her goal is to power students with knowledge of technology for social good and development. Follow her on Twitter @OptimalMiss.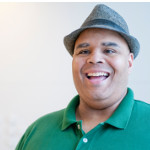 Kelly MacDonald
Kelly MacDonald has worked with Accessible Media Inc. for nearly two decades, first starting as a studio producer. Kelly has appeared in several shows on both AMI-tv and AMI-audio including Blind Sighted, a show following his bucket list-inspired adventures. Kelly is now the host of AMI-audio's live afternoon program, Kelly and Company. Kelly began his broadcasting career with CJCS radio Stratford but also has a passion for theatre. In his spare time, Kelly directs Out Of Sight Productions, a London, Ontario based theatre company he founded. Follow him on Twitter @AMIKellyMac.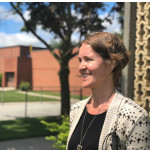 Marie Claire Bilyk
Marie Claire is a Paralympic double gold medalist and world record breaker, and the first athlete with a disability to qualify for the national varsity swimming championships, where she placed fourth in Canada against her sighted competitors. Marie Claire earned a Master's of Science in Nutrition from UBC and published ground breaking research on the food experiences and eating patterns of people who are blind and partially sighted. As a young mother, she started a prenatal fitness and nutrition company, and ran it successfully for eight years. She then sold Blossom Fitness and began an eight year career as a manager in the not-for-profit sector. Marie Claire lives in London with her husband, two teenage children and her guide dog, Kaya.
Don't miss out on your opportunity to hear what industry leaders have to share; register today! Call 416-486-2500 ext 7611 or email entrepreneurship@cnib.ca.