One of our partners in accessibility, Key2Access (K2A), is a Canadian technology start-up with an innovative approach to accessible pedestrian crossings.
For people who are blind or partially sighted, crossing an intersection can be challenging and sometimes dangerous. Making physical contact with the pole and the inconsistency of pole placements can render pedestrian pushbuttons or even Accessible Pedestrian Signals (APS) inaccessible, especially during our harsh Canadian winters.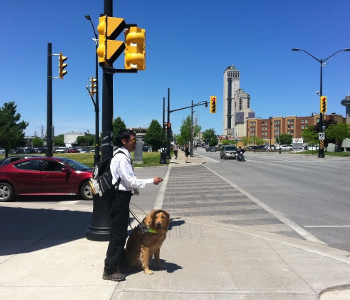 Thanks to its wireless city solution (Key2Access Receiver) and its unique pedestrian devices (K2A Mobile App and K2A Fob), Key2Access makes crossing intersections safer and easier for people with sight loss
The free mobile app or handheld fob connects wirelessly to the K2Access Receiver, which is installed in the intersection's existing infrastructure. The platform focuses on elevating the cities' current infrastructure and will complement any existing APS or traditional pushbutton solution as well as service intersections with no buttons.
In October, the City of Stratford announced the municipality had installed Key2Access at two downtown intersections as part of a pilot project.
Waterloo and Ontario streets
Wellington and St Patrick streets
The City of Sudbury has also installed equipment at three traffic signals. 
Telstar Avenue and Regent Street
Lasalle Boulevard and Lansing Avenue
Ste Anne Road and Notre Dame Avenue
The K2A Mobile App makes navigating intersections safer and easier by:
providing a real-time alert on arrival at the intersection, so you know exactly where you're standing;
letting you remotely select the street you want to cross, and make a crossing request, without having to find and reach a pole-mounted button;
confirming your crossing request and providing a clear, audible signal and countdown when it's safe to cross;
providing information about barriers or hazards at an intersection, such as construction or route closures, along with alternate navigation guidance.
The Key2Access app can be download for free on the Apple App Store and Google Play. 
To learn more, visit key2access.com.
 
In the News
On Target is published quarterly