Main Content
Transforming our communities into beacons of accessibility and inclusion, where people can live, work and play without barriers.
ShopTalk: BlindSquare Enabled
Join the movement! Install a beacon and instantly make your business more accessible. 
What is ShopTalk: BlindSquare Enabled?
The project helps people with sight loss navigate safely and confidently through the placement of beacons in the local businesses. The beacons connect with the BlindSquare GPS smartphone app to provide users who are blind or partially sighted with a verbal description of a business, including the goods and/or services sold, and the layout. 
The beacons can be customized to the space they're occupying. For instance, a restaurant may choose to communicate the location of tables, washrooms and staircases, while stores may be more interested in making sure customers can quickly locate cash registers, retail displays or change rooms. 
Without accessible information about your space, people who are blind or partially sighted may not even know you exist. A beacon puts you on the map for people with sight loss and gives them the ability to independently navigate your space.
The pilot project launched with the grand opening of the CNIB Community Hub on June 5, 2017. In Toronto, ShopTalk: BlindSquare Enabled was a Barrier Buster project made possible by The Rick Hansen Foundation Access4All Canada 150 Signature Project, supported by the Government of Canada. 
Since then, the project has evolved and expanded to cities across the country. 
Learn more about ShopTalk in this short video:
How does 'ShopTalk: BlindSquare Enabled' work?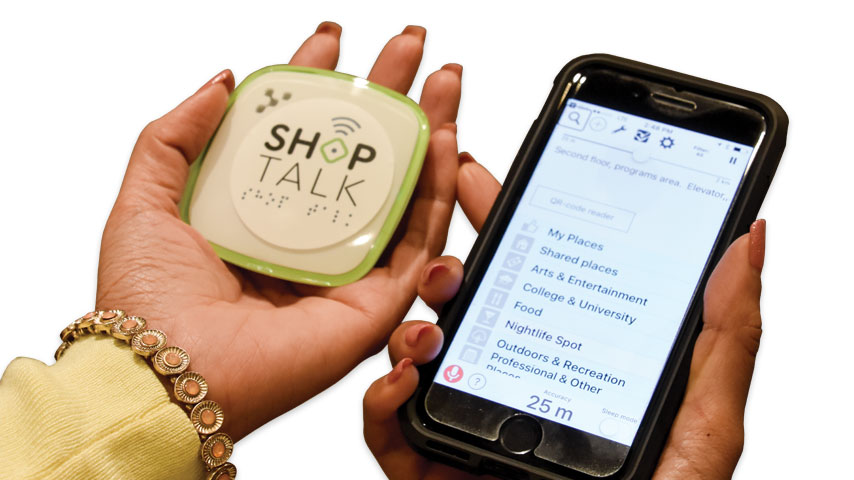 A small (7cm x 7cm) battery-powered beacon is placed inside a business entrance. The beacon is programmed with information about the layout or floor plan of the space and goods or services for sale. The beacon then silently 'communicates' with the BlindSquare app through low energy Bluetooth signals. Essentially, the beacons are silently broadcasting information about businesses to blind patrons using the BlindSquare GPS app. The Bluetooth signals do not use any special wiring or WiFi and don't interfere with any other technologies (i.e. security systems). Even better, beacons are tiny—they fit in the palm of your hand—and can be placed easily onto a ceiling or a wall and can be removed without any marking or damage to the wall surface.
Why we are doing it
CNIB's goal is to create a better Canada—a barrier-free Canada—where everyone can fully participate in the world around them. ShopTalk aims to smash barriers to create inclusive communities.  
Our hope is that this initiative will also provide an opportunity for a wider conversation around accessibility and inclusiveness, as people who live and work in the area will get to see firsthand everyday what an inclusive neighbourhood is like and witness the benefits. Illustrating how communities can work together to help make Canada accessible to all its citizens. 
Read Ashley's Story: The BlindSquare Experience
How do I download the app? 
The 'BlindSquare' app can be downloaded onto an iPhone or iPad via the iTunes Store. You can also download 'BlindSq Event' - a free version of the app.  
Get Involved
We want the community to be actively engaged in this initiative, and so we're calling on the public for more support.
Get a beacon! You can contact us at advocacy@cnib.ca for information.
Encourage your local businesses to take part. Or thank them for doing it.
Volunteer your time to speak to local businesses and join our growing team of canvassers who are making a real difference.
Imagine a future where BlindSquare is in every public building at one point, from governments to museums. 
ShopTalk in the news:
To learn more about Shoptalk, email:
Policies for blind pedestrian signage
People who are blind or partially sighted may feel unsafe navigating their neighbourhood because of cars travelling at a high speed or in a dangerous manner. Because of this, municipalities and political representatives across Ontario sometimes receive correspondence from residents who are blind or partially sighted (or from parents with children living with sight loss) to request that the municipality place warning signs that are designed to alert drivers for the possible presence of blind, deaf or autistic pedestrians (vulnerable road users) in their neighbourhood. These requests are normally made either through a politician's office or the local municipality and the correspondence is sent on to CNIB. CNIB Foundation and Vision Loss Rehabilitation Ontario (VLRO) can also be contacted directly to provide support or recommendations on whether a warning sign installation is an appropriate course of action.
Learn more about Traffic Warning Signs for the possible presence of pedestrians who are blind.